Solvay Executive Education (SEE) wants to provide its professors and staff with a safe working environment during this pandemic. This protocol outlines the measures to be respected to ensure a safe teaching process and prevent as much as possible the spread of COVID-19.
This protocol is based on guidelines from the Université Libre de Bruxelles – ULB, the Belgian National Security Council and responsible Belgian Federal, Regional and Community Ministries. All measures taken by SEE during this pandemic will only be effective if everyone adheres to the rules. This means calling others to account for not following the rules. Everyone needs to take responsibility in this crisis.
The present complete set of measures and rules will, in its integral coherence, come into effect generally within the institution as of 1 September 2020. Due to the rapidly changing circumstances surrounding the Corona issue, it should be borne in mind that safety and health measures are regularly subject to change.

SEE has taken the following health and hygiene measures in order
to ensure the health of our staff, professors and participants: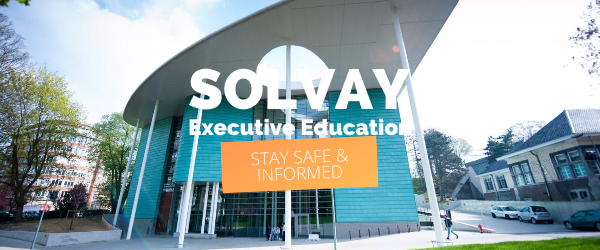 The official Wallonia-Brussels Federation (i.e. the local authority regulating university operations) protocol for the resumption of courses in higher education defines four levels of risk to qualify the health situation: Green, Yellow, Orange, and Red. Until otherwise indicated, the yellow level will apply at the start of the new academic year. We have
carefully designed contingency measures
to be ready to face any of the 4 scenarios and ensure the continuity of learning.
MEASURE 1: Lecture halls cleaning
Our lecture halls are now cleaned several times per day. Should you want to disinfect your seat and or tablet, please contact your dedicated programme coordinator who will provide you with a cleaning kit.

MEASURE 2: Signage
Signage will be in place throughout the buildings to enforce safe paths and minimum distance between people. Professors are restricted to use a designated teaching space indicated by floor markings.

MEASURE 3: Lecture Hall Capacity
MEASURE 4: Catering
If included in your programme, catering will still be proposed in compliance with the rules in force in the HORECA sector, please see our adapted service
here
. Nevertheless, due to the volatility of the epidemic situation, our catering offer might be adapted at any time and without prior notice.
MEASURE 5: Digital Learning and Enhanced Flexibility
Numerous programmes are introducing enhanced flexibility to ensure that participants do not get their studies jeopardized due to covid-19 related causes such as illness, quarantine, etc. Contact your programme coordinator to check the specific flexibility measures introduced such as being able to follow courses at distance.