Solvay Executive Education (SEE) wants to provide its participants with a safe working and learning environment during this pandemic. This protocol outlines the measures to be respected to ensure a safe learning process and prevent as much as possible the spread of COVID-19.
This protocol is based on guidelines from the Université Libre de Bruxelles – ULB, the Belgian National Security Council and responsible Belgian Federal, Regional and Community Ministries. All measures taken by SEE during this pandemic will only be effective if everyone adheres to the rules. This means calling others to account for not following the rules. Everyone needs to take responsibility in this crisis.
The present complete set of measures and rules, in its integral coherence, came into effect within the institution as of 30 October 2020. Due to the rapidly changing circumstances surrounding the Corona issue, it should be borne in mind that safety and health measures are regularly subject to change.
SEE has taken the following health and hygiene measures in order
to ensure the health of our participants, professors and staff: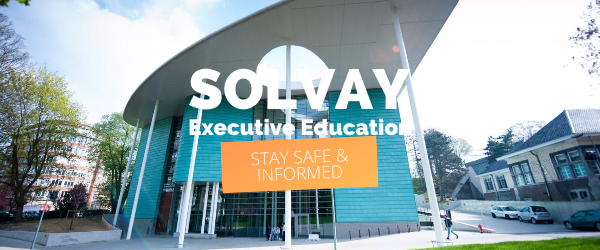 The official Wallonia-Brussels Federation (i.e. the local authority regulating university operations) protocol for the resumption of courses in higher education defines four levels of risk to qualify the health situation: Green, Yellow, Orange, and Red. We have carefully designed contingency measures to be ready to face any of the 4 scenarios and ensure the continuity of learning.
Until otherwise indicated, the red level applies from now on.
On 30 October 2020, the Concertation Committee further strengthened the measures in place to help curb the Covid-19 spread and alleviate the hospitals' congestion. The measures for our School, in force from Monday 2 November 2020 until 13 December 2020 included, are:
Work organisation
Although the School's infrastructures and premises remain accessible should an urgent need arise, remote work remains the rule for all positions that allow it. You are required to be present on-site if your job does not allow you to work remotely (research activity, libraries, enrolment, facilities, etc.) while following all sanitary measures;

The impact of child care on the ability to comfortably work from home is dealt with in the dedicated protocol;

All meetings must be held remotely.
Teaching activities

All classes shall be held remotely until the end of the civil year;

Laboratories, practical work and project workshops that require special equipment only accessible on-campus and that can under no circumstances be held remotely, may be held face-to-face provided the mask is worn at all times;

Internships are maintained in full compliance with the prescriptions of the hosting institution/place.
Community services
Libraries remain open only to allow access to resources via the "Click-and-Collect" system. Work and study spaces remain accessible if booked in advance. All useful information regarding these changes can be found on the libraries' website. Study halls remain open with limited seating. These spaces are entirely dedicated to individual study. Sanitary measures (a 1,5m distance, use of a mask) must be strictly respected. No group meetings are allowed on-site;

ULB's day-care centres remain open.

All events are postponed until further notice.

On-campus restaurants remain closed.
The second wave is hitting us even harder than the first. Every day we discover new people affected in our family, friends and professional circles. Let's be careful and stay in solidarity.